Invited speakers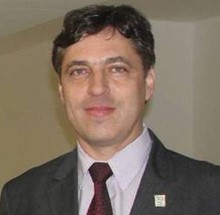 Érico Marlon de Moraes Flores
Érico M. M. Flores, born in 1966, has a permanent position at Federal University of Santa Maria (since 1991) in Brazil, performing research and teaching activities as a Full Professor.
His research interests include: development of methods for sample preparation, ultrasound and microwave applications, speciation analysis and quality control of environmental samples, pharmaceutical and other industrial products using atomic spectrometry (ICP-MS, ICP-OES, AAS) and ion chromatography. He has been coordinator of more than 60 research projects since 2000, including international cooperation with public and private companies, Brazilian government, etc. More than 8 million USD (total).
He has presented more than 50 invited lectures in international meetings (China, USA, Denmark, Germany, Austria, France, Greece, Italy, Czech Republic, Israel, Equator, Argentina, Venezuela, Mexico, Malaysia, Uruguay, Slovakia, Egypt, Turkey, among others) and published more than 380 peer reviewed international papers (including Analytical Chemistry, JAAS, Spectrochimica Acta Part B, Talanta, Analytica Chimica Acta, etc), and many international books and book chapters (over 8000 citations and H index = 45). He authored many patents and developed a new system of microwave induced combustion that is currently commercialized by Anto Paar company (Graz, Austria) in more than 50 countries. More than 33 students have received the PhD and more than 54 have received the MS degree under his supervision.
He was member of Editorial Board of Journal of Analytical Atomic Spectrometry/RSC (2014-2019). Currently, he is member of Editorial Board of Atomic Spectroscopy and Editor for Reviews of Brazilian Journal of Analytical Chemistry/BrJAC-Brazil and Editor of Drug Analytical Research journal/Brazil.
He received more than 30 national and international awards since 2002. He is a reviewer for more than 50 international scientific journals. He was a chairman or Organizing Committee member of several international (including CSI) and many national meetings. He is Fellow of Royal Society of Chemistry, Associate Member of Analytical Chemistry Division of IUPAC and Deputy Topic Leader of Expert Working Group/EWG-Q3D (Elemental Impurities) of International Conference of Harmonization. He has been a representative member of many national and international committees, namely in 2014-2018 he performed as Scientific Director of Foundation of Rio Grande do Sul State for Research Support.
Since 2018, he is the Coordinator of the International Affairs Office of Federal University of Santa Maria and responsible by the international cooperations with foreign nations involving scientific, technological, and academic cooperation as, e.g., with researchers of the Czech Republic among others.
Prof. Érico Marlon de Moraes Flores
Departamento de Química
Universidade Federal de Santa Maria
97105-900 Santa Maria, RS
Brazil